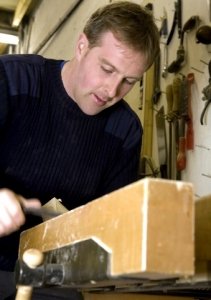 About Cecil
Cecil is a born and bred Shetlander and chose his career of furniture design and manufacture early on, leaving Shetland after school to study his art.  Shortly after his return to Shetland he set up Paparwark Furniture in  2003. Cecil now works full time in his workshop, but like many Shetlanders still has to find time to work on the family croft in the South of Shetland in the evenings and weekends.
Cecil is very much a part of the community and the wider Shetland craft scene. He is a committee member of the Shetland Arts and Crafts Association and is well known throughout Shetland for work and involvement in the industry.
Education and Qualifications
Cecil studied at Glasgow School of Building and Printing, earning a HND Furniture construction and design before taking a BA (Hons) in Furniture Craftsmanship and Design at High Wycombe.
Awards and Achievements
2003:  Awarded Shetland Entrepreneur of the Year by Shell Live Wire and attend the Scottish Final in Edinburgh.
2005:  Best first time exhibitor in the Shetland Open Exhibition at the Bonhoga Gallery.
Exhibition and awards
1997:  Craftwork Competition and exhibition at the trades house of Glasgow,  awarded a certificate of merit.
1997:  The Guitar stand st0ol was featured in an article in the Home Show magazine.
1999: Chaise lounge featured in an article in the Evening Standard about the New Designer Exhibition in London. This Exhibition had work from 130 different art and design colleges from around the Britian.
1999:  Exhibited at the New designers Exhibition in Islington London.
2003:  There week long exhibition of my work in the Shetland Museum.
2003:  Exhibited two guitar stands as part of a guitar exhibition at the Bonhoga gallery in Shetland.
 2006:  Exhibited the Vaarie coffee table as part of the Moder dy exhibition in the bonhoga Gallery Shetland.
2006:  Exhibited a Shetland chair on the Craft Scotland stand at the Homes and Interior Scotland Show at the SECC in Glasgow.
2007:  The Scottish Life magazine featured an article on three Scottish craft makers including Cecil. This magazine has a readership in America,  Australia and Canada and was an exciting opportunity for international publicity.
2008:  Exhibited work in the Buy Design gallery, Harestanes, Jedburgh.
2008:  Took part in the poetry craft collaboration.
2008:  Exhibited work in Touched by Scotland, Oyne Aberdeenshire.
2009:  Exhibited work in Longdale craft centre in Nottinghamshire.
2009:  Exhibited work in Artertia gallery, Lancaster.
2010:  Andrew Watt finished a 3 three year apprenticeship at Paparwark and was award a NVQ Level 3 in Furniture making.
2012:  Guitar stand stool exhibited at the Clerkenwell design week in London as part of a Scottish Furniture and textile exhibition.
2013:  A month long exhibition of my work in the Bonhoga gallery in Shetland.